Just a random girl born on a random day, the 6th of July...Don't EVER mess up with me or will get the you-know-what and it ain't gonna be pretty...(Just joking~!)
Talk it out ♥
NO vulgarities

NO spamming






Take a bow ♥

Basecodes by Cia: Blog
Icons/banners are from: Weheartit |Rebecca |Babydoll |Ferny |Catch a star |Pictures |Amazing Counters |Kawaii Junkie respectively.
Cursor: Cursors
Tagboard from: Cbox
Links inspiration are from: Alissa. xoxo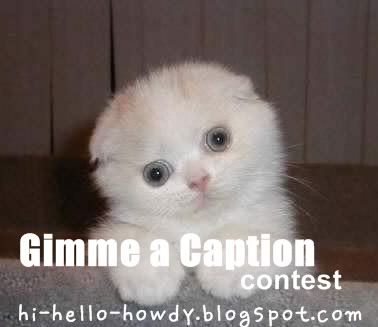 Sweet Lollipops ♥
YAY
Sunday, March 27, 2011
I won a contest.
It is the 'Gimme a Caption' contest. Yay me~
Anyways, I woke up like 4.30 AM in the morning!!!!

And went to Mount Vernon to go 拜拜. It was creepy when we reached there because we were the only ones... Scary.

Well, yesterday was the Earth Day and there was the EARTH HOUR...

I did not really offf the lights but I off the television...
Well got to go now, running out of ideas to write in blog. Ta-ta~


Joke for the day
Sunday, March 13, 2011
Hi~! Just read a Sunday Newspaper and found something super funny!!!!
Well, it was in chinese so I might as well just translate it..


An Unforgettable Story
I have two cockroach pets and I let them run around in the house. I don't know why, but my mother does not like the cockroaches and every time she sees them, she wants to kill them.
My father is also the same too! Instead of buying cockroach food, he bought insecticide. When I knew this, I immediately told my cockroaches but they do not understand me and just look at me blankly...
After a few days, daddy cockroach and mommy cockroach went to the toilet bowl to drink water. Unfortunately, my mom, who did not notice the cockroach, went ahead with her "business" and killed the cockroaches with it.
Baby cockroach wanted to save them so it jumped in, but just then, my mom let out an atomic fart which then killed the baby cockroach in less than five minutes.
The baby cockroach who wanted to save its parents died in the end too. I decided to put baby cockr0ach in a coffin. We should learn from baby cockroach on how to have the 'I must save my parents' spirit.



The End

That's all for the day~!

Holidays~!
Thursday, March 10, 2011
Heyyo~! How you all feeling today?Oh me? Well, kinda sad...
No need to tell why. Anyways, I am kind of bored,
and I have nothing to write about. Anyways, I shall make a vow, and you shall all be my witnesses...

Pretty shocked eh? Well, here I go.

"I owner of this blog, vow to blog every SUNDAY!!! "


Now ain't that wondeful? But sorry though, thats my only free time.... Wait! Don't go yet! I've got some good news...
There migh be an acception for this coming week as it is the MARCH HOLIDAYS! *woots*


Anyways, I can NEVER EVER neglect my blog as it is like my diary... Except that everybody else can read it too!


->Hey!My "diary" is open to anybody who wants to read it!


Anwyays, going to cut my hair... I bet you with a million dollars that I would look RIDICULOUS~!

See, I haven't even cut my hair yet and your laughing already!
I just went to play badminton this morning with me friends, and had CHICKEN RICE for lunch!!!

Hmmm.... Not drooling yet eh? I had ICE-KACHANG too!!!

Haha, I knew you couldn't resist the temptation.

Too make it more exciting, I even heard someone say, "Wah! Like volcano leh!" Well, you can choose to believe or not believe...


Anyways, it has come to the end of this blog so...
-> I'm a girl... :P








Sunday, March 6, 2011

It has been a long time since I blogged... But know, I have REVIVED~
I am alive again


Oh yeah! U-huh!
Anyways,I have joined a new contest, it is called the 'Gimme A Caption' contest. It is very easy, all you got to do, is give a caption for the picture on

WT♥

blog.



Must dos:
Tag on her blog saying, " I'm participating in your contest!" or something like that.
Fill in the form
Optional Stuff:

Place the bannner somewhere in your blog(5 marks)

Post about this contest(10 marks)

Follow WT on her blog(5 marks)
This contest will be based on this point system. Your caption will be given 20 points for creativity too!
After all that explaining, I bet you are literally DYING to hear what are the prizes you can win. So, keep your ears peeled.
First Prize

A banner for to you keep

An advertising spot on her blog for 3 months

3 guest posts

Second Prize

A banner for you to keep

An advertising spot on her blog for 2 months

2 guest posts

Third Prize

A banner for you to kep

An advertising spot on her blog for 1 month

1 guest post

Everyone else

A participation banner

Deadline is on the 12 of March 2011, so what are you waiting for? Come join now at WT's blog!



Link exchange is open!